Posted in
Apple
,
Problems
,
Software
on March 26th, 2014 by michael
I just added an appointment to OS X's Calendar app. It's supposed to run from 10:00 AM until noon. I go to the app and double-click on a date, fill in the event description and location, and then click on the date/time and get this:
From the keyboard, I enter 10:00 AM as the starting time. Then I tab to the next line and try to enter 12:00 PM as the ending time. It won't enter that time. It enters it as 10:00 PM, after which I have to go back and manually change it: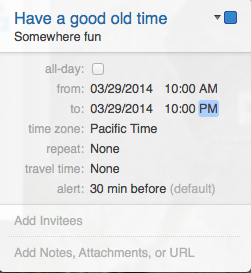 In fact, it won't let me type anything in the Hours space other than 11 until after I've changed the AM/PM indicator first. Now, I know I could do that and I know I could click on the time and select from Apple's pre-ordained choices (from 30 minutes to 3 hours in half-hour increments). But what if I just want to type in an ending time? Don't you think Apple's programmers would automatically allow meetings to go past the noon/midnight barriers?
Am I the only one to discover this issue?